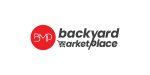 +18009270198
8705 Colesville Rd, Suite 135, Silver Spring, MD 20910, United States
The Backyard Marketplace is a family-operated online retail store providing high-quality outdoor playset equipment to families nationwide.

The Backyard Marketplace is based in Silver Spring, Maryland. What started out as a simple search to find the best play equipment for our family led to a passion for helping families bring good, clean fun to their lives with the best outdoor play set for their backyards!

That's why we're dedicated to providing quality outdoor play equipment at the best prices available online. We provide all the details and services you need to make your shopping experience simple, fun, and easy!